Pine Ridge Dental
Providing high quality and compassionate
dental care.
Our goal is to change the lives of our patients by listening and connecting.
We understand that there is more to you than just your teeth. You'll receive comfortable and compassionate care. Our intent is to educate and help you reach your dental health goals.
Since 2001, Pine Ridge Dental has been working with patients to provide high quality and compassionate dental care for patients in Zimmerman, MN. Dr. Jenny's experience in dentistry is with genuine concern for her patients.  We love dentistry and people and it shows – whether it's a cleaning visit, a comprehensive dental evaluation, walking a 3 year old through their first filling, creating a stunning new smile, or helping a person out of pain – we are here to help!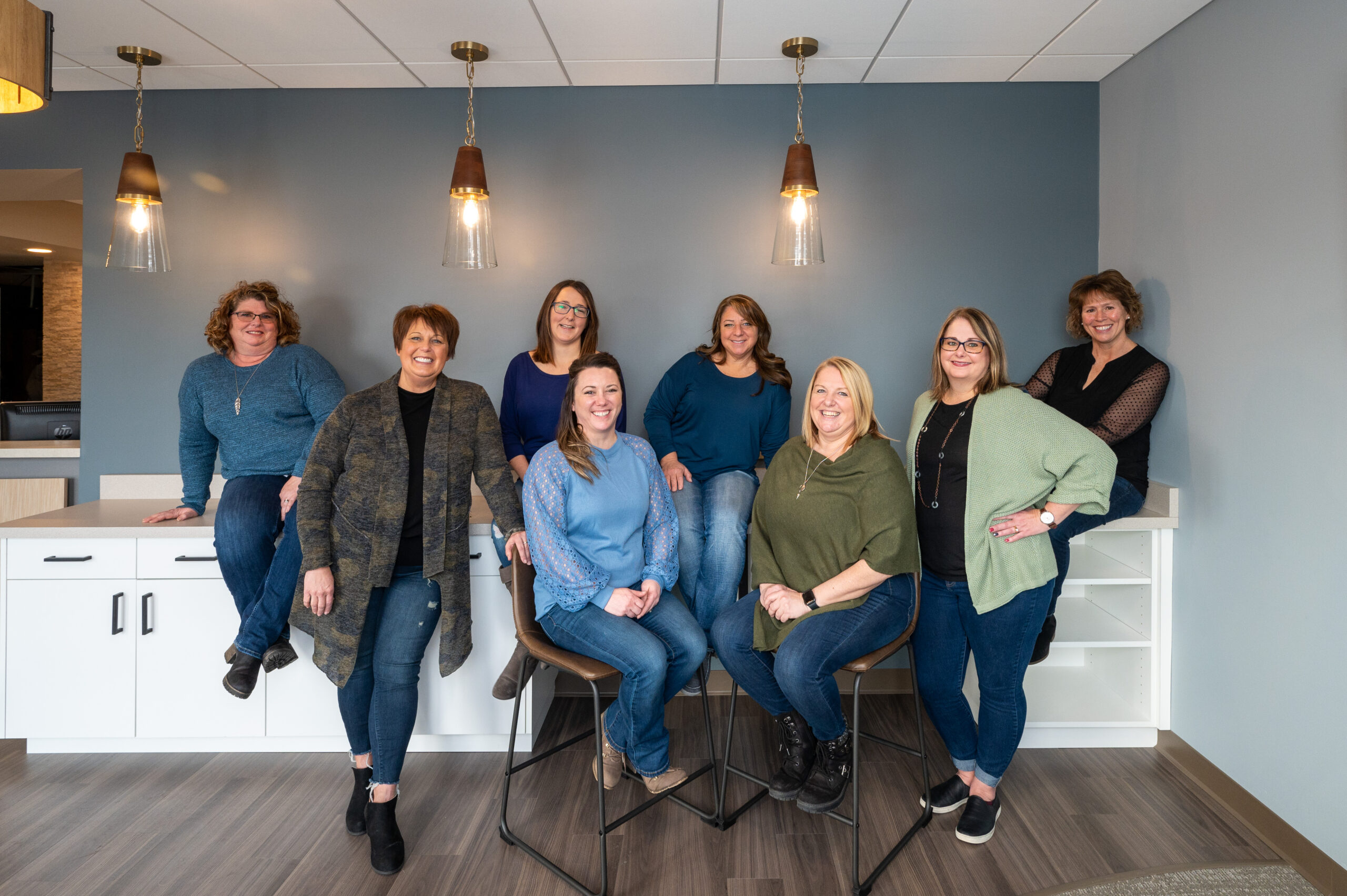 Thank you for making my visit as comfortable as possible. Everyone was so kind and friendly. I would 100% recommend Pine Ridge Dental! Thank you!
I have been a patient of Pine Ridge Dental for over 10 years. Dr.Narr and he associates do exceptional work, I trust my dental care with them. The entire staff is well informed and very knowledgeable, friendly too!
Love it, the staff were wonderful!! This was my first time at the dentist and I was very, very scars, but everyone made me feel at ease and the dentist, Dr. Jenny could not have been more caring. Thanks so much!! I am looking forward to the next time
I was very impressed by Pine Ridge. Not only did they provide excellent care while I was there for my first appointment, they also made sure I was aware of prices and provided me options that would fit my budget. They also looked at my teeth as a whole, checking my jaw, tmj, asking me health questions and providing a lot of good in site to my health and the health of my teeth and gums. I'll definitely be coming back. Staff was wonderful.
Dr. Jenny decided to be a dentist as a junior at Osseo High School. She stayed focused on the goal and is a proud 1998 graduate of the University of Minnesota School of Dentistry. It is her goal to help people that experience the pain caused by gum disease, cavities, muscle dysfunction…and prevent it in the future by catching problems earlier and focusing on prevention. She treats the whole person, understanding that there is more to dentistry than simply doing something to the teeth.
She dedicates many Continuing Education hours to help serve you better and to be able to successfully care for you. She has special interest in muscle problems, functional problems, TMJ problems, giving you that amazing smile you may be looking for, and dentures that are made with proper planning. She is an active member of The Academy of General Dentists, American Academy of Cosmetic Dentists, The Dawson Center of Advanced Learning, The American Orthodontic Society and the International Association of Orthodontists. She excited to be in a Spear Study Club with other dentists, an oral surgeon, orthodontist and periodontist…. great opportunity to collaborate and help you best.
Dr. Jenny and kids (Toby and Holly) live in Elk River. Aside from the fun of dentistry, she is busy enjoying her kids' activities which currently is hockey and soccer. Dr. Jenny loves to spend time with friends and family, reading, yoga, bike rides, and time boating at the lake. She also enjoys her perennial gardening and traveling.
After 30 years in dentistry, you can still see Deb has a fun personality and loves it.  Her favorite part of her job is the relationships she builds with patients.  She has a no judgement guide and thrives to help you meet your oral health goals.  Patients trust in her is her ultimate professional reward. Deb attended St. Cloud Technical College for dental assisting right after high school and continued right onto hygiene school at Normandale Community College. She graduated with an AAS is Dental Hygiene.  She worked as a front desk administrator while attending college, so she has a full understanding of how a great office runs.   Deb and her husband reside in Cambridge, MN. They enjoy time up at their camper in Brainerd where they boat, fish and bike.  She plays golf often and likes to travel, read and spoil her dog.
Beth is kind, gentle and warm. She has extensive skill, knowledge and has been a fabulous addition to our team.  The thing she loves most about her career is getting to know patients and learning new things from them.  Beth is married and has 4 children that have kept her busy. She comes from an even larger family, too.  She graduated from University of South Dakota  and graduated with AA in Dental Hygiene. Beth has over 30 years of experience and it shows. She enjoys spending time with friends and family. She is quite active and especially enjoys kayaking, snowshoeing, hiking and traveling.  At the cabin, you might also find Beth playing board games or doing a puzzle.   Beth and her family live in Big Lake.
Crystal joined the Pine Ridge Dental family in 2014 and then again in 2017. Crystal graduated from Herzing College in 2004 with an Associated in Applied Science and Specialized in Dental Assisting. Crystal is CPR and Nitrous Oxide certified. You will easily see she absolutely loves the dental field. Crystal enjoys learning new things and educating patients, so they are comfortable and informed. She will keep you (and the doc) laughing. She is compassionate about your feelings and she listens to your concerns. We are so excited to have you meet her. In her spare time, she enjoys anything with traveling, the outdoors, hanging with her family. Crystal is married and they together have one daughter and a new son was added to their family in 2019. In her own words, the outdoors are "just so relaxing".
Nicole started working with Pine Ridge Dental in 2016, Nicole works as Dr. Jenny assistant. Nicole is a graduate from St. Cloud Technical and Community College in Dental Assisting in 2012. She has always had an interest in dentistry and enjoys expanding her knowledge through continuing ed classes and her coworkers. She is here to help you with your dental needs. Nicole is understanding and wants your dental appointment to be a pleasant experience. As you will see Nicole is a fast learner and great at making sure you understand your dental needs. She has expanded her skillset and you are going to be lucky to have her help. She lives in Princeton with her husband their 3 girls. She is a fun, interactive and a very present mom. She enjoys the outdoors with her family. They like to go on, hikes, bike rides, walking their dog Mia and fishing up at the family cabin. In her spare time, she likes to read and crochet.
Amy is the person you will see when you come into our office. She is the scheduling coordinator and can help explain what a first appointment will look like, schedule appointments and greet you when you arrive. We would not want to function without her genuine and friendly nature.  Scheduling is tougher than it seems and she makes it look stress free. Amy is a problem solver, enjoys a job well done and has extensive management experience and it shows.  Amy is an asset to our team as I am sure you will notice.   Amy and her husband  live locally in Zimmerman and have two cats named Axl and Izzy.
Paulla joined our team as Licensed Dental Assistant in 2020. She received her Dental Assisting certification from Lakeland Dental and Medical Academy in 2001. She has experience in many parts of a dental practice including scheduling, billing, treatment planning and ordering. We are happy to have her skill set! She is friendly, personable and energetic about dentistry. We are grateful for her 25+ years of dentistry knowledge. Paulla went to Elk River High School and lives locally. She has two grown kids and grandkids that she enjoys. She likes to head up north to her camper, go golfing and vacation.
Jody has worked in many areas of dentistry. She was a dental assistant and now enjoys working with patients at the front desk with scheduling and helping you with financing the dentistry you might want. She is very knowledgeable and understand how insurance works.  She is a very hard worker in and out of the office. She has a passion for horses and has a big heart for helping others. Jody is married and has a daughter. She loves to trail ride with friends and spends time on the things that need to get done on her property and with her horses.